Fatigue Risk Management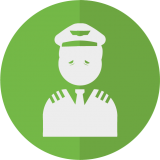 Course Description:
This course examines Fatigue Risk Management including typical human sleep patterns such as typical sleep pattern, non-rem sleep, rem sleep and sleep debt process, circadian rhythm and fatigue counter measures.
Platforms And Use:
This course is delivered on the CPaT Approach LMS and CPaT Mobile Application and can be operated on PC, iOS, iPad, iPhone, Mac and Android computers, tablets and devices. This course can be used both online and offline and will synchronize when connectivity is re-established.
Regulatory Compliance:
This online aviation course meets FAA, ICAO and DGCA requirements and it complies with IOSA Standards.
---