Walk Around Training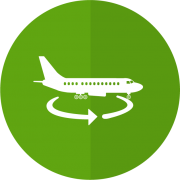 CPaT's Walk Around Trainer provides three-dimensional pre-flight walk around training. The system is easily adapted to other external, three-dimensional representations (e.g. maintenance) for use in a broad range of applications. This presentation can also be extended to virtual reality. The Walk Around Trainer comes pre-loaded with standard procedures specific to individual airframes based on OEM guidance from the applicable Flight Crew Operating Manual. Further, availability of different modes of operation, including Demo, Practice, and Perform, allows students to practice and master key skills and allows instructors to confirm that knowledge has been retained.
Using CPaT's content creation and editing capability, airlines are free to develop new lessons tailored to your specific needs and make modifications on-demand and in real time. You have the power to control your training. Further, airlines are free to modify or enhance existing CPaT lessons to match specific needs.
Key features include:
Leverage pre-set course structure and slide templates, or free form design
Add images of your own aircraft for the detailed views
Make changes on-demand for immediate availability
Modify CPaT content or individual airline content
Edit with full authoring control (add, delete, modify)
Apply personalization and your training culture to CPaT courseware
Access to CPaT library of aviation imagery and assets
Personalize with company reference material (documents, pictures, video)
Simple drag and drop slide sorting capability
Modify existing text or create alternative text selections allowing for specialized instruction and multi-language
Allows for multiple audio alternatives
Develop across multiple use modes – Demo/Practice/Perform