CPaT Global Announces New CPaT Invent Features: Automatic Text and Audio Translation
CPaT Global today announced new feature enhancements to CPaT Invent, CPaT's dynamic content-design software platform. The recent release uses cutting-edge machine translation technology to translate text quickly and easily to the language of your choice, as well as convert text narrations to audio narration.
"CPaT Invent is already one-of-a-kind in the world of aviation training distance learning, as it empowers airlines and Airline Training Organizations to truly tailor CPaT's library of content, or their own—specific to their airframes, regulatory differences, and so much more," said Kent Morrison, President of CPaT Global. "With this latest release of Machine Translation and Text-to-Speech, translating curriculum both for text and audio narration with a simple click of a button is unique to CPaT Global and our Invent content-design platform."
CPaT Invent Machine Translation allows training administrators to deliver translated content to a CPaT user in their native language. The built-in Text-to-Speech capability can automatically convert the translated text to audio.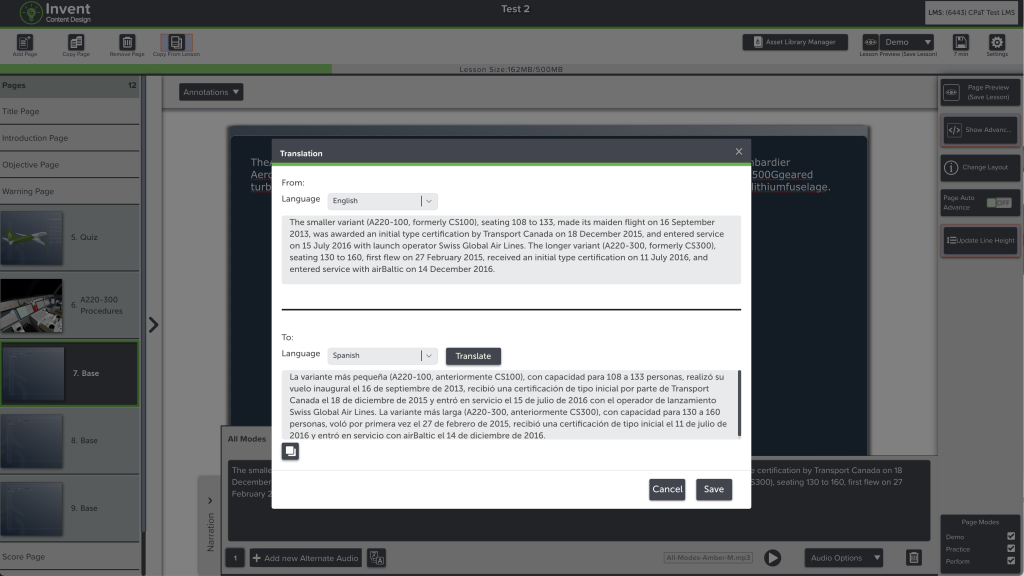 "These features are extremely valuable to regions of the world that prefer to train in their native language and/or need their students to easily toggle between English and their native language," said Capt. Greg Darrow, CPaT's Vice President of Sales. "CPaT's aviation distance learning allows you to train anytime, anywhere, on any device– and now, in more than 100 languages."
For more information, or to request a demonstration of Invent and these new features, please contact our sales team.