How To Become A Pilot in 7 Steps
Have you ever wondered what life is like from the pilot's seat? Whether you're looking to become an airline captain or simply fulfill a dream of earning a pilot's certificate, these 7 steps can help guide you in the right direction.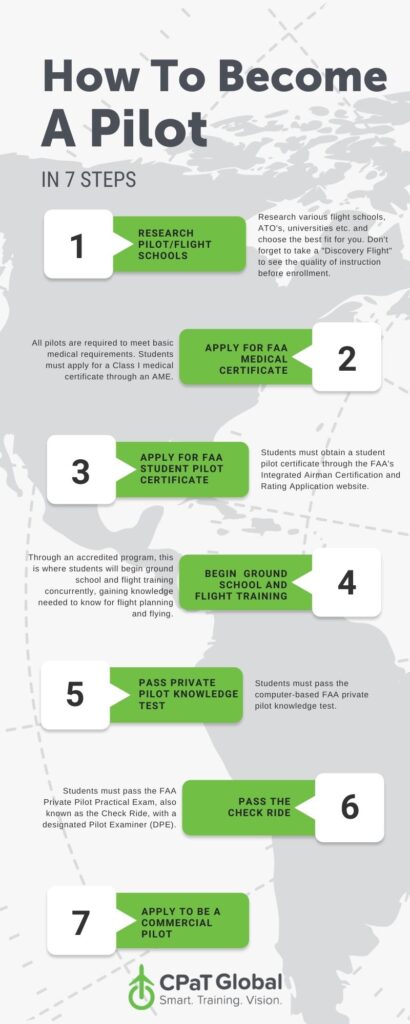 Step 1: Research Pilot/Flight Schools
The first step in achieving a pilot's license is researching flight training options. Before officially enrolling in a pilot training program, successfully completing a Discovery Flight is suggested. This flight allows students to see the quality of instruction a flight school can offer. This will also help the student get a better understanding of what it's like from the pilot's seat.
Step 2: Apply for FAA Medical Certificate
It's no secret that pilots must meet basic medical requirements to fly. While all pilots are required to meet these requirements, if flying professionally is the goal, students should apply for a Class I medical certificate through an Aviation Medical Examiner (AME).
Step 3: Apply for FAA Student Pilot Certificate
Although you do not need a student pilot certificate to start flight training, it is important to have so that students may fly solo during their training process. Many ATO's, flight schools, and universities can help students get this certificate through the FAA'S Integrated Airman Certification and Rating Application (IACRA) website. (FWIW, non-US Citizens also need to go through a TSA screening process before beginning flight training).
Step 4: Begin Ground School Classes
During time in an accredited flight training program, this is where students will be provided with the practical knowledge needed to know for flight planning and flying.
Step 5: Flight Training Lessons
While taking Ground School, students will concurrently begin working towards obtaining aviation knowledge during flight and familiarity of the cockpit that is needed to officially become a private pilot.
Step 6: Pass Private Pilot Knowledge Test
Students will then need to take and pass the computer-based FAA private pilot knowledge test. This test assesses knowledge of aviation in areas such as aerodynamics, weather, flight instruments, and more. To be eligible for the test, students must receive an endorsement from your flight instructor.
Step 7: Pass the Check Ride
The final step in earning a FAA private pilot certificate is to take the FAA Private Pilot Practical Exam, also known as a Check Ride, with a Designated Pilot Examiner (DPE). This exam consists of both an oral and a flight portion to assess flying skills and knowledge of practical applications in the cockpit.
Congratulations, on becoming a private pilot! If becoming a commercial pilot is the end goal, take the next required steps and enjoy life in the skies.