What Does PRM Stand for in Aviation?
In aviation, Precision Runway Monitors (PRMs) are high-speed, highly accurate radars developed to monitor parallel approaches at the same time. In parallel runways less than 1,310 meters (4300 feet) from each other, a PRM system is essential. There are only a handful of airports at which PRM is in use, including Chicago-O'Hare, San Francisco, Detroit, Atlanta and Sydney, Australia.
Pilots are required to be trained in these procedures before being authorized to conduct them. Pilots are also encouraged to review and understand any specific company procedures for each PRM procedure encountered. Although not all pilots are required to be trained in PRM, the FAA still requires pilots to be familiar with these operations. CPaT includes this course as a part of our robust Aviation Specialty course library (General Subjects). Using our content-design platform, CPaT Invent, our General Subjects library is modifiable specific to your airline or training organization's SOPs, regulatory differences, and more.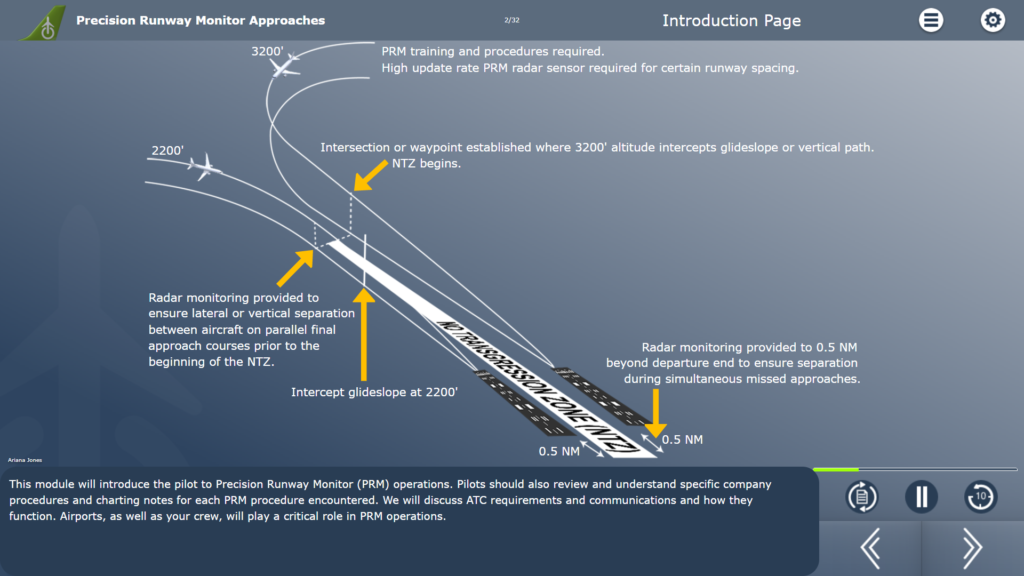 CPaT's PRM course will introduce the pilot to basic PRM operations. In this course, we discuss ATC requirements and communications, and how they function. It is our goal that by the end of this course, students will be able to describe the criteria for Precision Runway Monitor operations, identify what a breakout maneuver is, describe the specific notes found on PRM AAUP charts and their meanings, and recognize and explain the difference between PRM and SOIA.
In Need additional training besides PRM? CPaT has 40+ additional General Subjects courses, as well as more than 100 Aircraft Systems courses. All of our content is delivered on our CPaT Access Learning Management System (LMS) and the CPaT Mobile Application, which can be used on multiple devices; including PC and Mac computers, and Windows, IOS, and Android tablets. Our courses can be used both on-line and off-line and will synchronize when connectivity is reestablished, allowing for training anytime and anywhere.
Meet your training goals and budgets with CPaT Global's distance learning solutions. For more information on how to train PRM or one of our many aircraft systems, contact CPaT Global.